Finding The Perfect Dress
As an Orlando Bridal Stylist I meet with brides all day, every day. Helping brides find that special gown is a truly rewarding experience. Her expression in the mirror when she feels truly beautiful and all of her best girls are speechless. Eyes full of tears as she realizes "wow, I am getting married" it is truly life changing. However, sometimes the search doesn't go as smoothly as planned and I see brides struggle with the process. Above all else, this is supposed to be FUN. This is the one time in your life you can take a few risks, take charge and own it!
For some women the search for their dream dress begins long before we've even been introduced to the groom who will see it. For others, the search can be long, drawn out, and stressful. This is supposed to be the highlight of the celebration! What is most important at this time is the realization that this is not "just a dress", this is THE dress. This is the first gown that will adorn your body as a married woman! Marriage is an extremely precious milestone; all your guests will witness you merge your life with your soulmate. So you know, no pressure! It may feel overwhelming at times, but trust me with a little guidance and the right attitude, you will find the one in no time. There are three main keys, that I will share with you, that I always suggest to get my brides to understand when they start looking for their gown: Be open, Stand your ground, and Trust your stylist.
Be Open: Minded, that is. I am sure by now you have six Pinterest boards dedicated to your bridal gown alone! You've might have stumbled upon several gowns that you love every detail about and would love to try on. It is good to have a direction you'd like to start in. However, when you get to the first appointment, prepare yourself for the idea that what you want may not be just waiting for you on the rack. One cannot rush perfection. Sometimes it takes a few design changes to bring your gown to life, and that's ok! My biggest piece of advice to you is to try everything on. I know, I know. Shopping is exhausting! But with bridal it is vastly different and nothing is as it seems when you're in the bridal salons. Take everything you know about how clothes fit your figure and throw it away (for now). Every bride wants to feel beautiful and confident on her day, your consultants (should) understand that. Think about the assets you have that you want to show off, tell your stylist what you want to accentuate. Even if you don't think a certain silhouette will be flattering, try it! Always remember that the hanger does NOTHING for a gown. Your body will do wonders, have a little faith!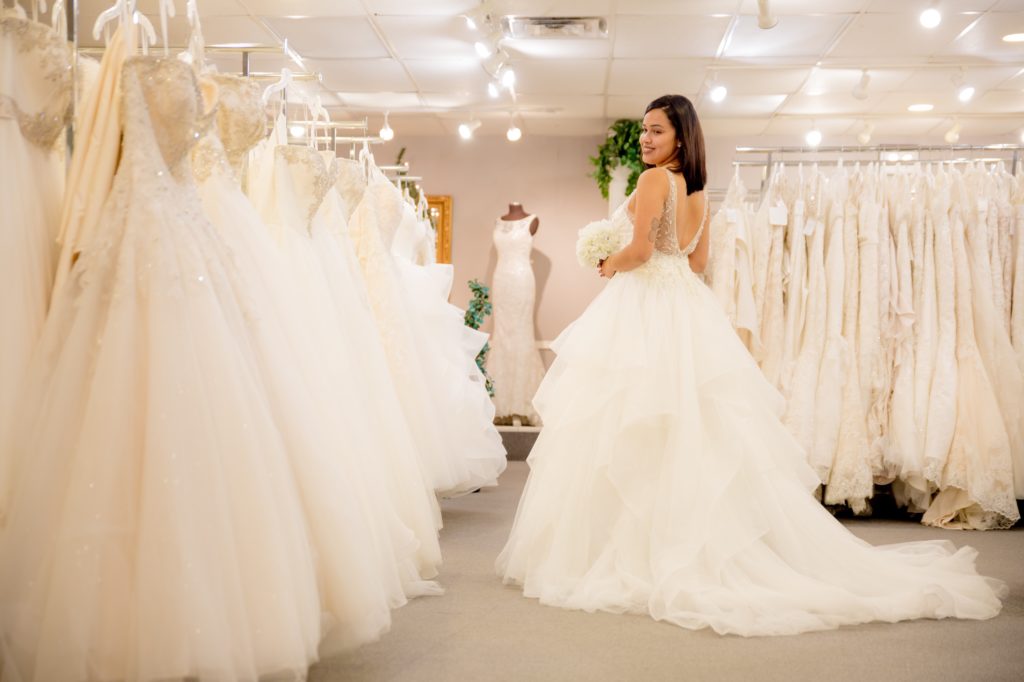 There are so many different combinations of beading, lace, ruffles, and texture. Don't be afraid. The worst that can happen is, it isn't "the one"
Stand Your Ground: This is such joyous time, that everyone wants in on the action. Excitement is contagious, you will want to share the news and show off your gown. Having a ten-person entourage is great for photos but sometimes it can cloud your thoughts. For your first appointment opt for the exclusive "VIP" opinions. On average brides try on maybe ten gowns in one appointment. Form a top five or three and when you are making a FINAL decision, then bring in your squad. Having several different voices can make it confusing when you are trying to decide what you want. Clarity is key when deciding on a gown! Don't be afraid to voice your likes and dislikes about the gowns your family suggests. Ultimately they want YOU to be happy, you are the bride and that is not something to be taken lightly.
Trust your stylist: Ladies this is a big one. We understand it is difficult to meet a complete stranger and trust them with your life. (dress = life, right?) However, they are the pros, they know their inventory, and they know what is possible and what is not possible. The right consultant/stylist will be able to talk you through what you envision for the wedding. Think of them as your fairy-god-mother, tell us your dream and POOF they'll make it a reality.
As an Orlando bridal stylist I am always looking for what is trending. I am always looking for new ways to be creative to give my brides something that is truly unique to not only to their personality but their overall look. We are here to create your signature look, not just find a gown that fits. Experiment with different fabrics, colors, and textures. Take advantage of this moment to truly be the queen that you are. The sexiest things a woman can wear are her confidence and her smile. Own it and you can't go wrong!
xoxo,
Justine Cruz